Acacia Treah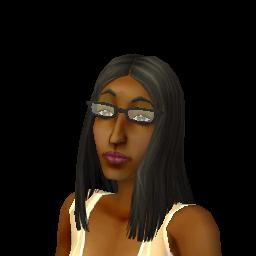 Acacia has to look after her younger siblings quite often. She wants to be an artist rather than a babysitter. She's actually quite creative and has some potential for those careers.
Type: Human
Gender: Female
Age: Teen
Aspiration: Fortune
Zodiac Sign: Aries
Relations:
Forest Treah (Parent)
Willow Treah (Parent)
Ash Treah (Sibling)
Kamilah Treah (Sibling)
Banyan Treah (Sibling)
Unborn Treah Babies (Siblings)
Genetics:
Hair Colour: Black
Eye Colour: Brown
Skintone: S4
Neighborhood: Mountainside Valley
Acacia Treah is a teen Sim who resides along with her family in Mountainside Valley and is 14 days away from becoming an adult.
Acacia is the oldest child and so part of the responsiblity of raising the kids falls on her. She, however, is not a big fan of looking after her younger siblings and wants to pursue her own dreams.
Note: In her bio, it says that she enjoys painting but her predestined hobby doesn't necessarily need to be Arts and Crafts if you have Free Time installed. The game randomly picks one of the hobbies and set it as a predestined hobby like any other pre-FT sims. It can be fixed with the FFS Lot Debugger however.
Community content is available under
CC-BY-SA
unless otherwise noted.