Angel Hart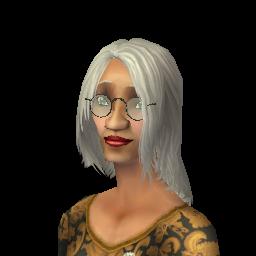 Angel was with Valentine through all their ups and downs. She didn't bail on him during the Hot Tub Dome Scandal, and he didn't bail on her when she got Rodney's Sudden Death Syndrome. She really thought she'd beat that disease; but she didn't.
Type: Human
Gender: Female
Age: Elder
Aspiration: Romance
Zodiac Sign: Libra
Marital Status: Married
Genetics:
Hair Colour: Grey (Black as an Adult)
Eye Colour: Green
Skintone: S3
Neighborhood: Widespot
Angel Hart was an elder Sim who resided along with her family before moving to Widespot.
Not much is known about her since she is dead at the start of the game. However, she used to work as a Professional Part Guest in the Slacker, which is the top level of the career track. She died from illness.
Community content is available under
CC-BY-SA
unless otherwise noted.