Ida Juana Knowe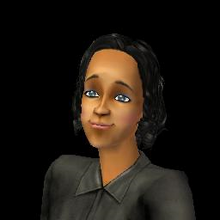 Biography:
A sorority is such a great idea and Ida Juana's going to have so much fun! She can totally organize this! Though the house does seem kind of big and empty right now...
Life State:
Name: Ida Juana Knowe
Age: Young Adult
Gender: Female
Type: Human
Education & Employment:
Year: Sophomore
Major: Political Science
Personality:
Aspiration: Popularity
Zodiac Sign: Aquarius
Lifetime Want: Have 20 Simultaneous Best Friends
Relations:
Parents: Dun Knowe, Alli Knowe
Siblings: Hugh Knowe
Romances: None
Children: None
Marital Status: Single
Roommates: Helen Wheels
Appearance:
Hair Colour: Black
Eye Colour: Dark Blue
Skintone: S3
Body Shape: Fat
Other Information:
Game: The Sims 2 University
Playability: Playable
Neighborhood: Land Grant University
Ida Juana Knowe is one of the pre-made playable students in Land Grant University. She lives in the Annya Var Fruhm sorority with roommate Helen Wheels.
Ida Juana studies Political Science and is in her sophomore year. (3rd semester). She starts off with 1 cooking, 1 charisma and 1 creativity skill points. Ida Juana is 71 hours away from the final exam.
When first played, she's friends with her brother Hugh Knowe, Helen Wheels and Andy Bellum.
Community content is available under
CC-BY-SA
unless otherwise noted.