Stuart McCormick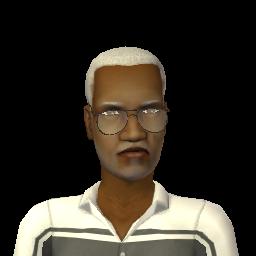 It's not like Stuart doesn't love his nephew but Ryan has to return to home. Otherwise, his parents will worry to death. Stuart has never had any kids and doesn't think that he's going to be a good 'father' figure for Ryan.
Type: Human
Gender: Male
Age: Elder
Aspiration: Popularity
Zodiac Sign: Aries
Martial Status: Single
Relations:
Parents: Unknown
Jules McCormick (Sibling)
Virginia McCormick (Sibling-in-Law)
Ryan McCormick (Nephew, Roommate)
Robin Moore (Roommate)
Craig Bailey (Roommate)
Genetics:
Hair Colour: Grey (Black as an Adult)
Eye Colour: Brown
Skintone: S4
Stuart McCormick is an elder Sim who resides along with his family and roommates in Mountainside Valley and is at the start of elderhood.
Stuart is unemployed at the start of the neighborhood and it is not known exactly how he was able to support himself to live in a house with roommates. It could be assumed that he used to do some freelance work, or sell harvest or paintings.
Stuart was shocked to find that his nephew sought him for help (and refuge) from his parents. Stuart, though he does not approve of any of this, still welcomed him in to their house. He's not quite sure of what he's supposed to do next.
Community content is available under
CC-BY-SA
unless otherwise noted.